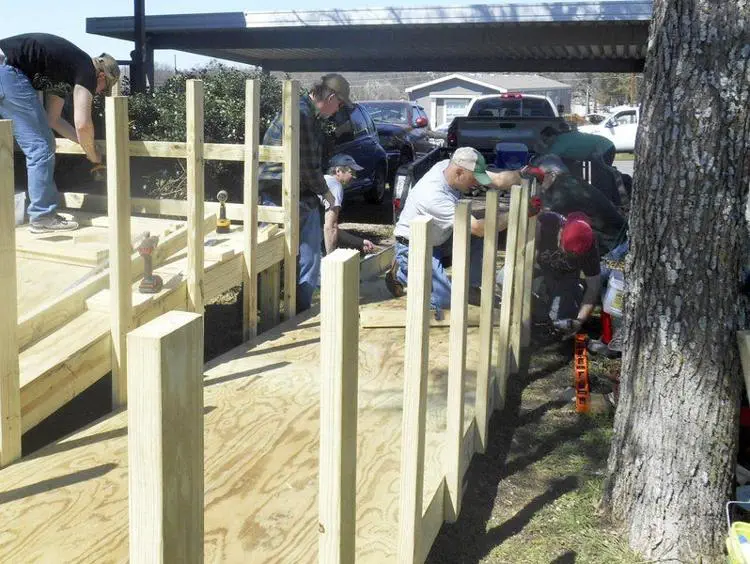 Weatherford Democrat
By AUTUMN OWENS  |  news1@weatherforddemocrat.com |  Mar 20, 2019
The Texas Ramp Project is dedicated to building wheelchair ramps for disabled or elderly people who can't afford to purchase one, and most recently assembled its local captains as well as volunteers to help an 80-year-old Aledo resident.
"The project we did [March 17] came to us like many other, through the Texas Ramp Project. They're kind of a clearing house for social workers to send referrals to and then the Texas Ramp Project tries to find volunteer organizations to build the ramps," Jeff O'Donald, who volunteers as a captain and builder through the project, said. "We requested referrals for the month of March and were sent six different names, so we started to evaluate those projects and [the Aledo resident] was one on the list."
O'Donald said the Aledo resident had been in a nursing home, but was supposed to go back to her home on March 16.
"She was having a difficult time in being able to come home because her husband, who is 84, couldn't get her up and down the stairs," O'Donald said. "So she was able to come home [March 16] because we agreed that we would be out there the next day to build the ramp so they could get her in and out from then on."
Her ramp was funded by the Aledo United Methodist Church Master's Builders fund, which O'Donald is a member of, and built with help from Holy Redeemer Catholic Parish volunteers.
Richard Riehm is another captain volunteer who helps build ramps in Parker County and discussed how the team works together to complete ramp projects.
"Between [the captains], we go out and meet the people, take measurements, come up with a design and make sure they own the home or rent the home on a long-term agreement. Sometimes we'll build a ramp and they're renting the home, so then three months later they move and are in need of another ramp. So we only try to do it for homeowners or a special situation where they're renting it long term and not moving any time soon," Riehm said. "Once Jeff and I go out, meet with the people and design something that will work, we send out an email to our team. We probably have 150 people on our email list. Then we just show up and build the ramp, and usually in three or four hours we're done from start to finish."
O'Donald said he's been building ramps in the county for about seven years.
"We've built a little over 100 wheelchair ramps around Parker County," O'Donald said. "It's been wonderful. Being able to serve is what Christ calls us to do and I know we all do it in different ways, but this way suits me and the others. I do well with this and it does feel like you've accomplished a lot by the end. I think we get just as much out of it as the people who are receiving the ramps."
The Texas Ramp Project was established in 1985 by the Kiwanis Club of Richardson after the organization was asked to build a wheelchair ramp for a friend, according to the Texas Ramp Project website. After a few projects by the club, the Dallas Ramp Project was developed and 20 years later, more than 1,400 ramps had been built.
"Since 2006, the Texas Ramp Project has expanded into 36 Texas regions from Texarkana to El Paso, Amarillo and McAllen," according to the website. "More than 16,000 ramps have been built, which if laid end to end, would extend for more than 80 miles."
Riehm discussed another project that was done for a Weatherford resident who was homebound.
"She was housebound and she couldn't get out unless the fire department came to help," Riehm said. "For [her], it changed her life dramatically. It's so sad to think that people are locked in their house."
Riehm said they're always looking for donations to help with ramp expenses, which can range from $500 to $1,200, and volunteers to do work.
For more information or to donate, visit www.texasramps.org. Donations can also be made to the Aledo United Methodist Church Master's Builders.