Building Freedom for the Homebound
Have you ever changed a person's life in a single day? The Texas Ramp Project does it hundreds of times a year! We build wheelchair ramps for older adults and others with mobility issues who can't afford to buy one. In a few hours on a Saturday morning, we give these folks the freedom to leave their home again—the home where they want to remain but whose steps have imprisoned them. Ramps are provided without regard to age, gender, religion, race or ethnicity.
You can support us with your time and talent, by becoming a local leader or volunteer builder.
You can support us with your funding, which we can use to purchase lumber and tools for ramp construction.
Or you can support us with your good will, by spreading the word about how the Texas Ramp Project brings freedom to the homebound.
Mail a Check to:

The Texas Ramp Project
P.O. Box 832065
Richardson, TX 75083-2065
ysrvcyvvufuffcevqyefcuwuebw

Donate Online:

Make a one time donation
or set up a monthly
recurring donation.
Texas Ramp Project Videos
Celebrating 100 Miles of Freedom and 20,000 Ramps
About the Texas Ramp Project
Ramp Saves Lives in House Fire
A ramp, built in Eastland Texas by a volunteer crew from the Lions Club, is a lifesaver for a client and their caregiver when the ramp is used to leave a burning home. Video courtesy of Wendy Mace.
Texas Ramp Project Stories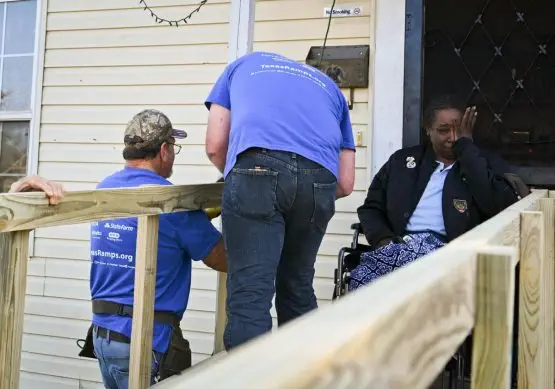 Temple resident Tavenia Nash is overcome with emotion as men from the Texas Ramp Project…
About the Texas Ramp Project