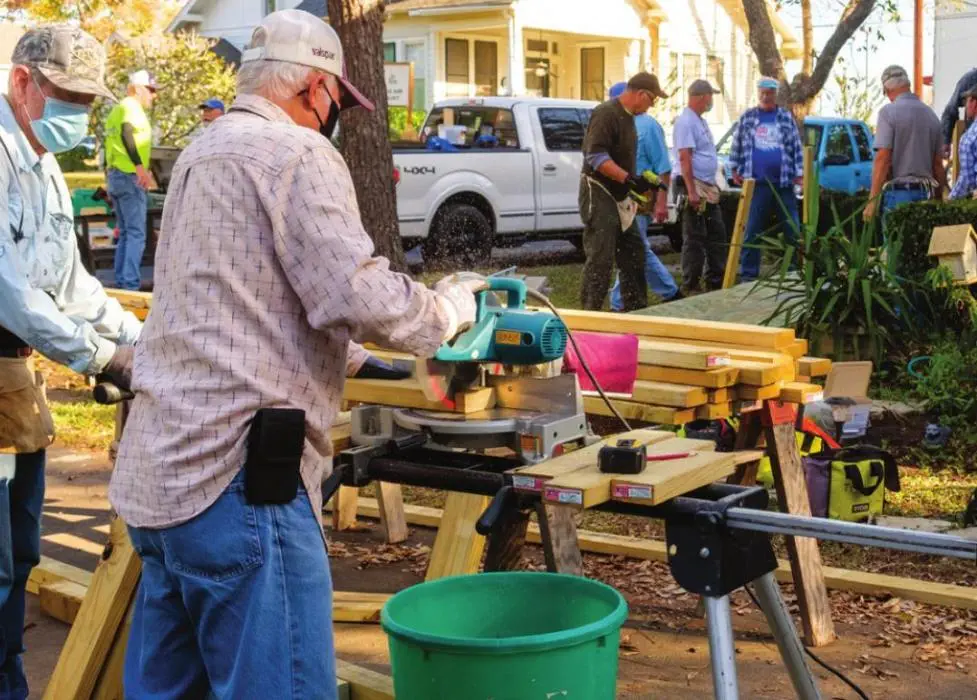 Featured Photo Caption: More than a dozen volunteers showed up to build the ramp at last Thursday. Photo by Andy Behlen
By Andy Behlen – Wed, 11/25/2020 – 17:46
The Texas Ramp Project (TRP) celebrated building "100 Miles of Freedom" on Nov. 15. The statewide organization estimates that since TRP's inception in 2006, its more than 3,500 volunteers have built 100 miles of ramps for people who use wheelchairs and walkers.
Last Thursday, Nov. 19, TRP's Fayette County chapter marked the occasion by building a ramp at the home of Estlea Miertschin and her son Wayne on Crockett Street in La Grange.
J. Frank Smith, who heads up the Fayette County chapter, said a healthcare provider referred the Miertschins to the Texas Ramp Project after Wayne suffered some health setbacks.
"He needs a way to get in and out of the house," Smith told the Record in an interview before the build.
At first, the Miertschins turned down the offer.
"But now, he and his mom realize they need the ramp," Smith said. "Because otherwise, he can't get out of the house."
Smith said his organization aims to support people with disabilities like Wayne so they can live independent, meaningful lives. According to data provided by TRP, over 3.7 million Texans – 12.9% of the population – are age 65 or over. More than 1.6 million Texas men, women and children have a disability that may require a wheelchair or walker. Many are veterans. With Texas' poverty rate at 13.6%, there are likely many people who need safe access to their homes but lack the means to obtain it.
"We have a pretty good group of guys who realize it's important to be there, and they realign their priorities so they can help," Smith said.
Most of the volunteers are retired men. They meet as a group weekly, usually on Thursdays, to build ramps. Occasionally they meet on another day to build "modules" – short sections of ramp that can later be assembled quickly on the job site. Some volunteers perform solo duties such as surveying future build sites.
Last Thursday at the Miertschins' home on Crockett, more than a dozen volunteers started work around 8 a.m. The group finished and packed up around noon.
Clients like the Miertschins cannot directly request a ramp from the organization. TRP only provides ramps to people referred by a third-party healthcare provider, social worker, or in some cases clergy, Smith said.
Smith said materials to build one ramp cost a minimum of $500. TRP builds the ramps according to specifications in the American Disability Act, including a maximum five degree slope. Accordingly, homes that sit higher off the ground like wood frame homes and mobile homes require longer ramps that can be much more costly to build. Add to that labor, and Smith estimated that the ramps built by TRP would cost homeowners thousands of dollars if they hired a contractor.
TRP operates with volunteer labor and donations. Clients do not have to pay a penny.
Smith said his group always needs donations and volunteers. They prefer monetary donations, but they'll also take donations of treated lumber and woodworking tools. They mainly use Ryobi cordless tools, and Smith said they sometimes need new batteries when the old ones wear out.
Monetary donations can be made directly to the organization at:
Texas Ramp Project
P.O. Box 832065
Richardson, TX 75083-2065
For other donations, to volunteer, or for more information about the Texas Ramp Project, call or text Smith at (512) 762-4065.