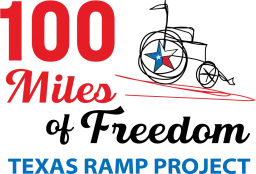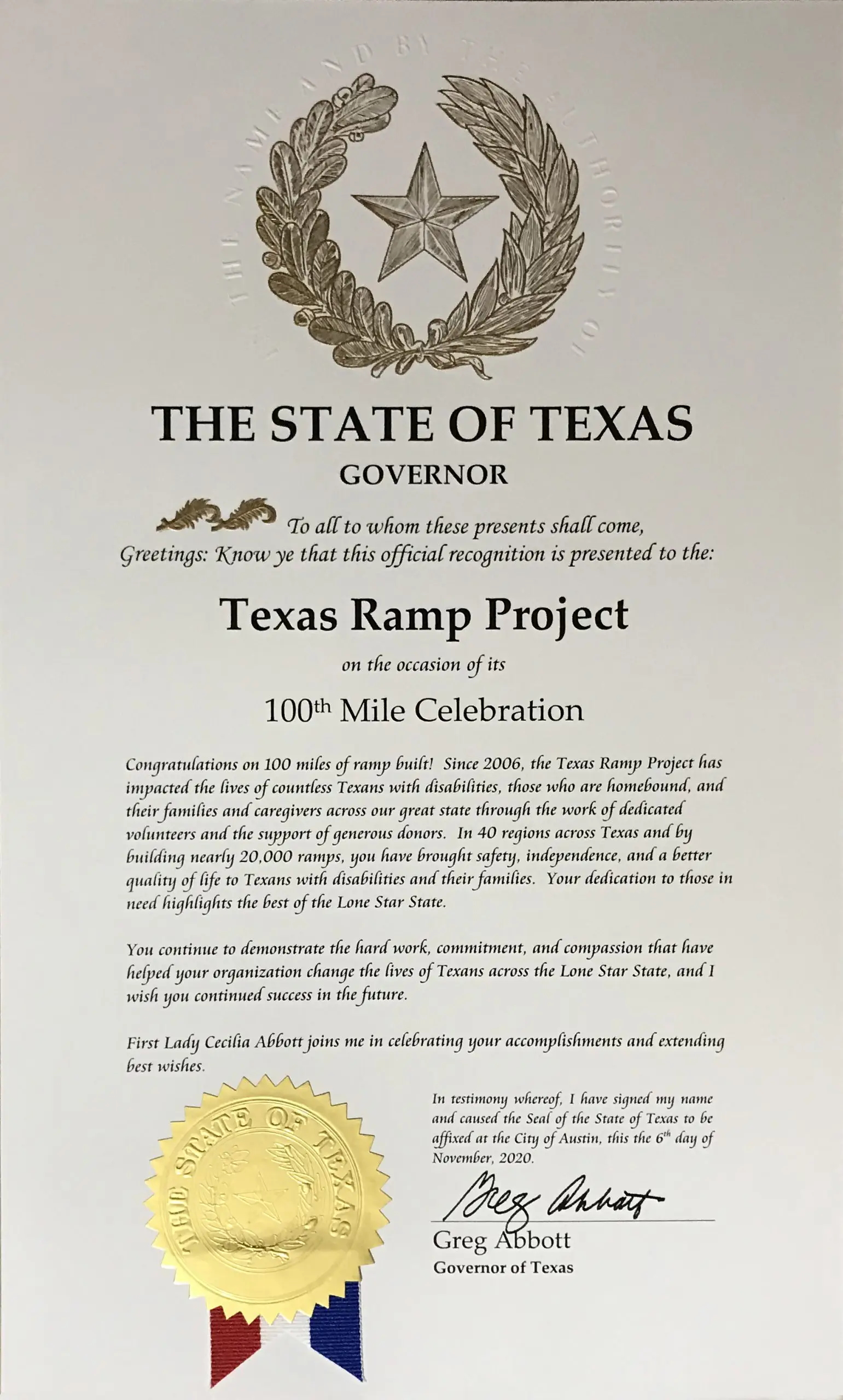 Proclamation from Texas Governor Greg Abbott
THE STATE OF TEXAS
GOVERNOR
To all to whom these presents shall come,
Greetings: Know ye that this official recognition is presented to the
Texas Ramp Project
On the occasion of its 100th Mile Celebration
Congratulations on 100 miles of ramp built! Since 2006, the Texas Ramp Project has impacted the lives of countless Texans with disabilities, those who are homebound, and their families and caregivers across our great state through the work of dedicated volunteers and the support of generous donors. In 40 regions across Texas and by building nearly 20,000 ramps, you have brought safety, independence, and a better quality of life to Texas with disabilities and their families. Your dedication to those in need highlights the best of the Lone Star State.
You continue to demonstrate the hard work, commitment, and compassion that have helped your organization change the lives of Texans across the Lone Star State, and I wish you continued success in the future.
First Lady Cecilia Abbott joins me in celebrating your accomplishments and extending best wishes.
In testimony whereof, I have signed my name and caused the Seal of the State of Texas to be affixed at the City of Austin, this the 6th day of November, 2020.
Greg Abbott, Governor of Texas
San Antonio Area Foundation
What an amazing accomplishment and milestone to meet as an agency. 100 miles of ramp is just the tip of the iceberg in terms of true and lasting impact on the loves of those you serve.
Thank you for sharing this great news with me, I forwarded it on to all my team mates…we are collectively celebrating this!
Best,
Cadence Corbin, 
Program Officer
Community Foundation of the Texas Hill Country
Many thanks for all that Texas Ramp Project does for those in need!
Kind regards,
Ingrid Cunyus
Grants and Scholarships Manager
St. David's Foundation
What an incredible milestone – congratulations!
Christina Thompson, Communications Team
Isla Carroll Turner Friendship Trust
This is fantastic news.
Pat Stilley, Executive Director
South Texas Electric Cooperative
Thank you for sharing the announcement on your milestone! So wonderful….
Michelle Gloor, Executive Assistant
The Gordon Hartman Family Foundation
Congratulations on achieving this milestone! Great work!
Becky Thomas, Assistant to Gordon V. Hartman, Founder
St. Luke's Lutheran Health Ministries
This is wonderful! I sent this notice out to all of our Board! We are proud to partner with you!
Vicki Boyce, Executive Director
Anonymous Foundation
What a wonderful milestone for a great organization. What an impact!
A Huge THANK YOU to Our Event Sponsors