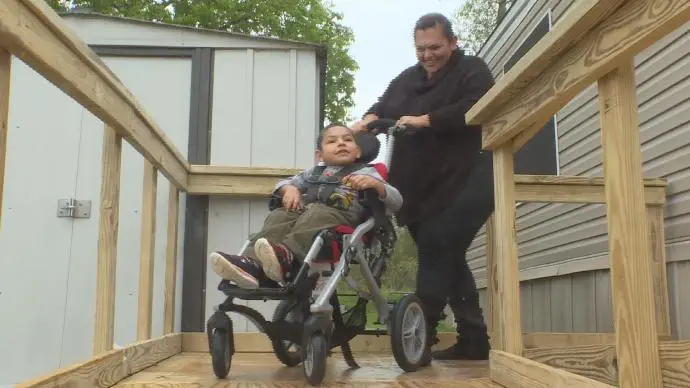 KBTX.com
For one Bryan family, this spring break is feeling a little more like Christmas after they received a wheelchair ramp for their 6-year-old son.
The ramp was built piece by piece for free by volunteers of Texas Ramp Project.
"It was just pretty much a miracle," said Judy Lopez. "Emmanuel is the little kid that used to play in the playground, go down the slides and get on the swings. But now he's just banned from all of that until he gets the surgery."
Her son Emmanuel has been living with Achondroplasia, a type of dwarfism, since birth. But in January his doctors found his top two vertebrae weren't attached. Now, unless he's at home on a level surface, he has to be in a wheelchair.
"I searched everywhere, I looked up prices, trying to see how much it would be to get a ramp done. But, it was pretty much just out of our budget," said Lopez.
That's when Texas Ramp Project stepped in. The organization has been serving the Brazos Valley since 2009.
"This ramp is the 485th that we've built here since we started," said Coordinator Jerry Gritter."I was retired for 2 or 3 years and I just needed something to do. So when this opportunity came up I took it. Now the problem is I can't get out!"
Not that he would want to. Gritter says building ramps does as much for him and his fellow volunteers as it does for the people receiving them.
They work quickly too, after just three hours of sawing and drilling, the group of six volunteers turned pieces of plywood into something Emmanuel will use everyday.
"It means a little more when you build for someone so young. This will be a great help to them. They'll be able to wheel him out to the school bus without having to pick him up and carry him down the stairs," said Gritter.
"You know how they say 'killing two birds with one stone'? Well this is like killing five birds!" said Lopez. "It's going to help us so much."
Texas Ramp Project is always looking for volunteers to join them in building ramps for those in need across the Brazos Valley.