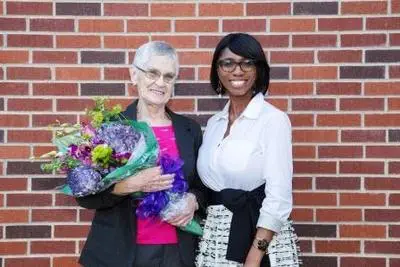 Medical City Lewisville April 27, 2017
Medical City Lewisville, formerly Medical Center of Lewisville, is pleased to announce that long-time volunteer Beverly Ford has been named a 2016 recipient of the prestigious National Frist Humanitarian Award. The accolade is the highest honor that Hospital Corporation of America (HCA), the parent company of Medical City Healthcare and Medical City Lewisville, bestows upon employees, physicians and volunteers for service to patients and their community.
Among her notable volunteer achievements, Beverly is dedicated to the elderly and disabled through the Texas Ramp Project (TRP), a nonprofit that builds and provides wheelchair ramps at no cost to clients in need. As a former regional coordinator for TRP, Beverly's leadership resulted in 1,800 ramps and more than 56,000 hours of labor.
"Beverly's volunteer activities extend to many hospital areas and community organizations over the years. Her strong desire to help others in need is evident," said LaSharndra Barbarin, CEO of Medical City Lewisville.

"Beverly embodies Dr. Frist's spirit of compassion, selflessness, and servitude. She is truly deserving of this recognition, and we are honored to have Beverly as part of our team."
Beverly joined the Medical City Lewisville team nine years ago and has volunteered more than 2,400 hours during her tenure, primarily in the emergency department. In addition to her hospital volunteer activities, she contributes time to community organizations including the Lewisville Fire Department Reserves and the Lewisville Salvation Army, where she helps prepare lunch for more than 75 people each week through the soup kitchen. Additionally, she has served the community through Habitat for Humanity, Lewisville Cares, Christian Community Action (CCA), and Carter BloodCare.
The Frist Humanitarian Awards were created to recognize employees and volunteers who embody HCA co-founder Dr. Thomas F. Frist Sr.'s volunteer spirit and compassion, as well as demonstrate extraordinary concern for the welfare and happiness of patients and their community.
About Medical City Lewisville
Medical City Lewisville is a full-service acute care hospital licensed for 186 beds. Serving Lewisville, Flower Mound and southern Denton County since 1976, Medical City Lewisville is a Level III Trauma Center and provides the county's only pediatric ER. Fully accredited by the Joint Commission, Medical City Lewisville offers the area's only Level III NICU, comprehensive rehabilitation services, and is a Primary Stroke Center. In 2015, Medical City Lewisville was the first hospital in southern Denton County to achieve Magnet® recognition as a reflection of its nursing professionalism, teamwork and superiority in patient care.
Medical City Lewisville is a part of Medical City Healthcare.
For more information, visit www.MedicalCityLewisville.com or follow us on Facebook and Twitter.