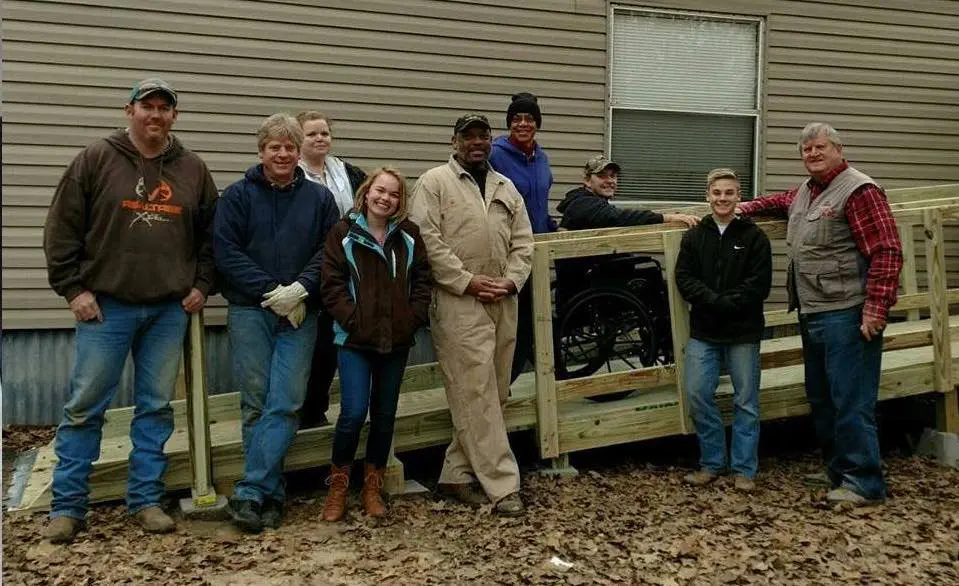 The Gilmer Mirror
Members of the Gilmer Kiwanis Club spent a cold Saturday morning building another access ramp for an Upshur County Resident. As reported last month, the Gilmer Kiwanis Club has partnered with the Texas Ramp Project in an effort to provide access ramps for Upshur County Residents. Members of the club met on Saturday, December 10 to build their second access ramp at the home of a local Upshur County resident. Upshur County Resident Spurger could not wait to try out the ramp, saying he can only get out of the house if somebody is there to assist. "Now I can come and go as I please", said Mr. Spurger. The ramp was installed at no cost to Mr. Spurger- well except for the coffee he offered club members as they worked in the damp, cold morning.
The Texas Ramp Project was started in 1989 by some friends in Richardson, Texas who got together to help financially disadvantaged people get access ramps to enter and exit their homes. John Laine, Texas Ramp Project Executive Director, stated the group receives calls for ramps daily. They are limited only by the number of volunteers they have in areas around the State to build the ramps. Laine stated "We have been able to provide two ramps in Upshur County over the past two months only because the Gilmer Kiwanis Club has offered to be available". The Club is already planning its third ramp project for Upshur County next month.
Again, the ramps are provided at no cost to those who qualify. If Upshur County residents need a ramp, they should contact: The Texas Ramp Project at (214)675-1230 or email them at info@texasramps.org.