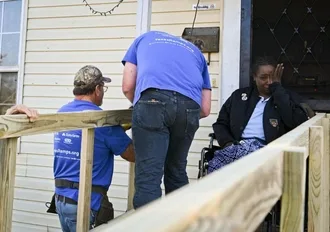 Temple resident Tavenia Nash is overcome with emotion as men from the Texas Ramp Project install a ramp at her home.
Temple Daily Telegram
By: Jacob Sanchez | Telegram Staff | December 22, 2020
Four steep steps separated Temple resident Travenia Nash from leaving her home.
Sounds easy — but not for Nash, who uses a wheelchair.
Just to leave or enter her home, the 50-year-old had to have a family member carry her in and out.
That changed Tuesday. Nine members of Immanuel Lutheran Ministries spent around two hours sawing, hammering and sanding wood to make Nash a ramp so she can safely leave her home.
"It's a blessing that they did this for us. It's a blessing," Nash said, tears welling in her eyes and rolling down her cheeks.
Sawdust-covered Royce Winkler was one of the men building Nash's ramp. He said the volunteers are part of the Texas Ramp Project, a nonprofit that provides free wheelchair ramps to low-income older adults and people with disabilities.
"People who need it get their caregiver to go online, fill out an application and we get the applications for this area," Winkler said. "We've been building ramps (in Bell County) for four or five years."
Typically, the local group would build 16 to 20 ramps a year. But 2020 has been anything but typical. Winkler said his group of volunteers have constructed 12 ramps — five from January to March, none from March to October and seven for the remainder of the year.
The COVID-19 pandemic brought the ramp-building endeavor to a halt this spring.
Despite that, the Texas Ramp Project is celebrating a major milestone this year: They have built 100 miles of ramps. Since it was established in 1985, volunteers have constructed nearly 20,000 ramps, according to the Texas Ramp Project.
"The goal is people who need help to get in and out of their houses," Winkler said. "We built one last week for a lady who couldn't get out of her house. She had a mobile chair, but couldn't get out of her house. She was afraid if that house caught on fire, what would she do? It's a lot cheaper than putting them in nursing homes."
The ramps — built with materials supplied by the Texas Ramp Project — also give residents a safer way to get in their homes, Winkler said. On Tuesday morning he saw Nash's son carry her inside her home on South 11th Street.
"That's highly prone to accidents," Winkler said.
Nash was full of joy as she listened to the volunteers build a ramp just outside her living room.
"I love them. When I was watching through the window, I had started crying," she said, as more tears of joy began to stream down her face. "It's a blessing."
The free ramps make people's lives easier, Winkler said.
"Not that many people care and stuff. Some people just gave up — but they haven't," Nash said. "It's beautiful."