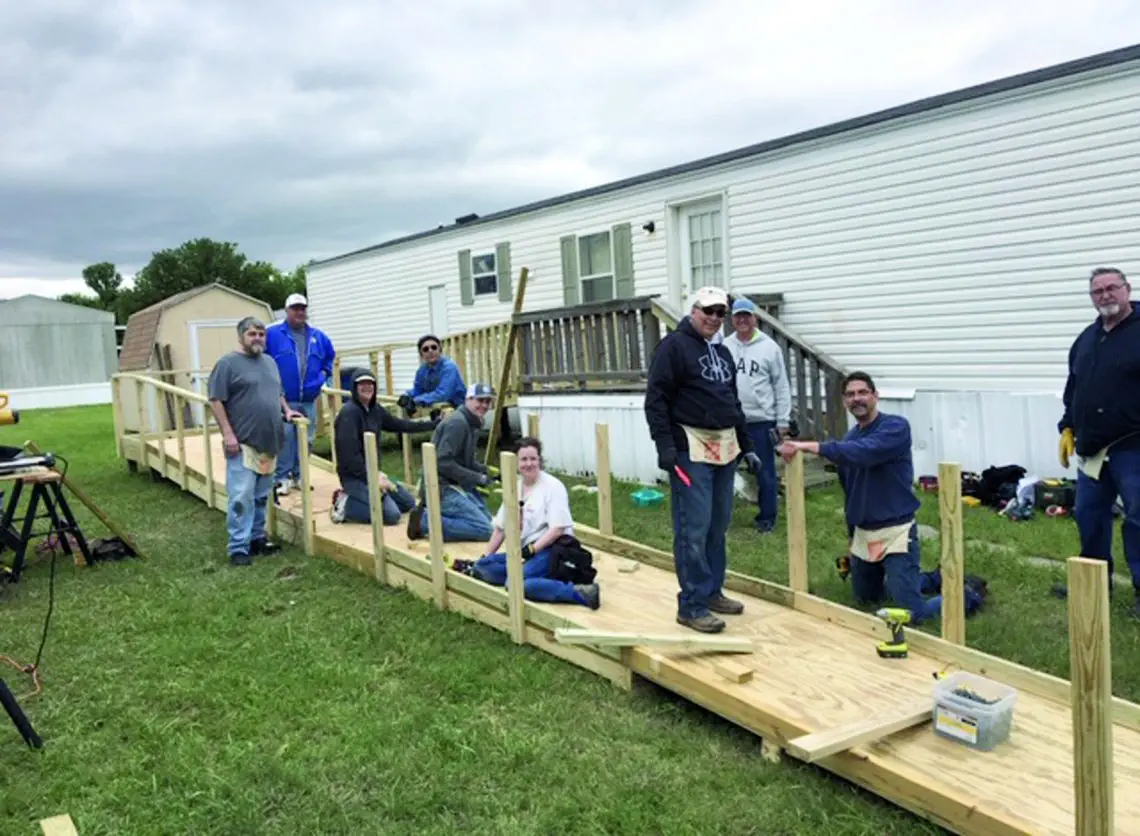 Feature Photo Caption: Volunteers from First United Methodist Church Sachse build a ramp for an individual who needs help moving around. FUMC Sachse's men's group has participated in the North Texas Ramp Project since 2017. Courtesy Photo
The Sachse News
August 29, 2019  |  By Morgan Howard, Staff Writer  |  news@sachsenews.com
Men's group serves community with compassion, tools
When the men of Sachse's First United Methodist Church began searching for a service project, they found one right at their doorstep – literally and figuratively.
Pastor Frank Rahm had been involved with Texas Ramp Project at his previous church in Whitewright and brought his passion for the ministry to Sachse.
Texas Ramp Project enlists volunteers to build wheelchair ramps for disabled or elderly people. Social workers and healthcare professionals refer clients who have trouble getting in and out of their homes due to stairs.
Sachse FUMC's first build was in January 2017, and they have constructed ramps almost every month since then.
According to volunteer Mike Buettner, each ramp takes about five hours to build, but it really depends on the size and the number of volunteers present.
"It's rewarding," he said. "We do a group picture with the family, and I love seeing the joy on their faces because they've been locked in and not able to get out easily."
Although the men's ministry heads up the project, all volunteers – not just men – above the age of 16 are welcome. They meet the fourth Saturday of each month, usually as early as 7 or 8 a.m.
Volunteer Red Garner pointed out that Paul Eirich, Dave Scott and Cliff Edwards are especially crucial. Eirich works on ramps every week, not just once a month, and Edwards is in charge of collecting lumber.
It took the team a while to create a game plan, but now they are well versed in construction. The process begins by figuring out measurements and placing the first few pieces of wood. That's the hardest part, Buettner noted; once that's taken care of, everyone is able to pitch in and find the most suitable task.
Some church members are physically unable to contribute, but that's fine too. The volunteers welcome anyone willing to work, whether it's with a hammer or through moral support.
The group's biggest problem is also what they're most proud of: the fact that they're running out of North Texans to help. Besides helping members of their own church, they've traveled as far as Seagoville, Sunnyvale, Hutchins and Nevada.
FUMC Sachse has put a dent in the needs of Collin and Dallas Counties, but they're a piece in a larger puzzle. Since 2006, volunteers with the Texas Ramp Project have built more than 16,000 wheelchair ramps in 36 different regions of the state. According to the nonprofit's website, if all these ramps were laid out end to end, they would be more than 80 miles long.
The physical process of getting a ramp built requires a good deal of background work. Homebound people cannot refer themselves to Texas Ramp Project, and once they are chosen, an official is sent to survey their home. This official then passes along the information to the group from FUMC Sachse. Volunteers like Edwards, who take on more of a leadership role, pick up all the supplies in preparation for the Saturday build.
In the past, the group has also worked with Sachse city officials to see who needs help with yard work. This ministry has fallen to the wayside as the men have gotten busier with ramps, but Rahm hopes they can revamp this work in the future.
He also noted that they pray over each ramp they build. In his view, one of the most rewarding aspects of the ministry is seeing God answer these prayers.
"We pray over the family, the house and the ramp itself," Rahm said. "One time, we built for a woman who hadn't been out of her house in three years. A few months later we went back on a follow-up and she wasn't there. We found her talking to a neighbor. She goes out all the time to check on the neighborhood. It's a liberating ministry because it gets people out of the house – that can get awfully lonely."
Members of Sachse FUMC's men's group find joy in how they're running out of projects; it means they've served their community well. But they also realize that many homebound may not know of the Texas Ramp Project. They want more people to reach out so they can make a referral and then serve them.
Over the past two and a half years, the service project has helped the volunteers as much as the people they're serving. Many of the members only see each other briefly on Sundays. As they serve together, they bond together. The time-consuming, energy-draining act of construction gives them time to joke, swap stories and learn more about each other's lives outside of church.
"As pastor, I'm really proud of our church," Rahm said. "They've responded with love, prayer, sweat and work. They give up a Saturday each month. I'm thankful and proud of how they're showing love by sweating."
To learn more about the Texas Ramp Project, donate money, make a referral or sign up to volunteer, visit texasramps.org. To learn more about FUMC Sachse's ministries, visit fumc-sachse.org.